Explore the 2023 Kia Sportage in Elk Grove, CA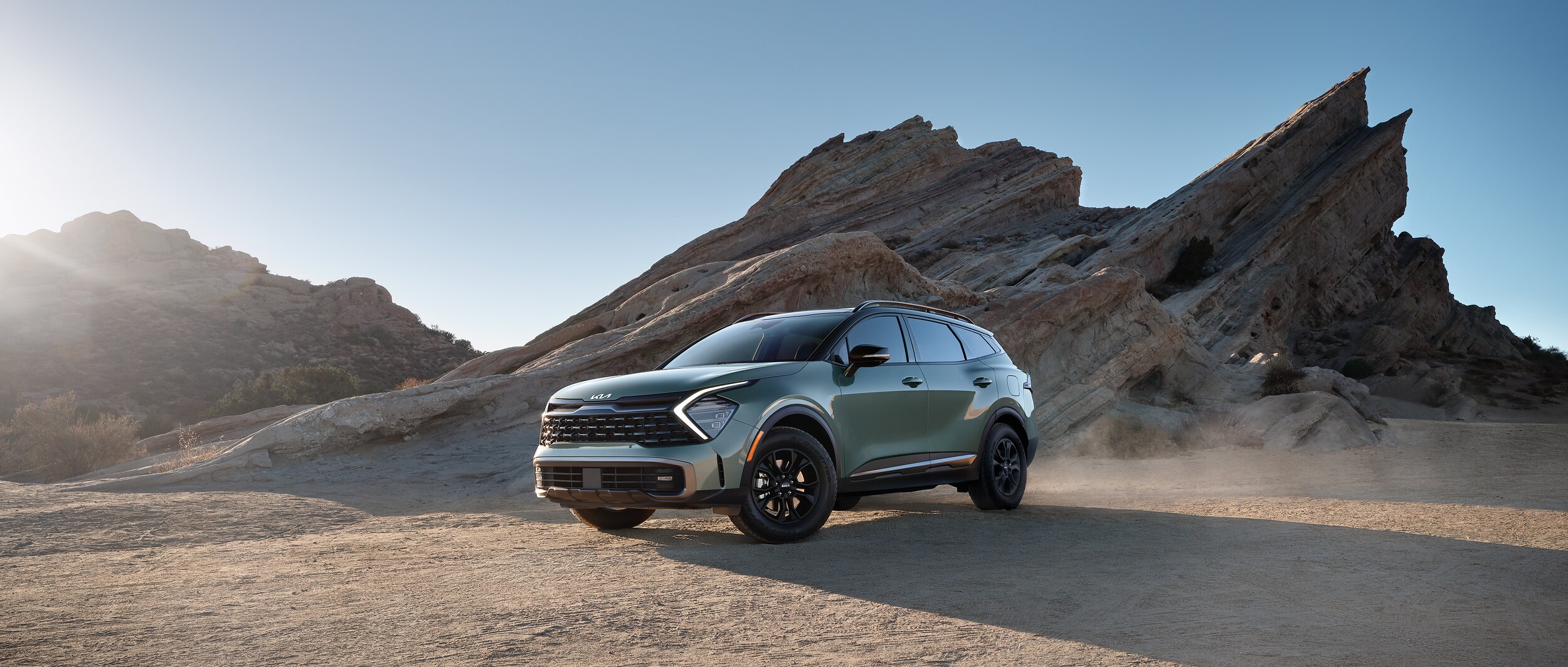 Enjoy a Modern SUV in the New 2023 Kia Sportage 
Entering into the market as a member of the fifth generation of this Kia SUV, the 2023 Kia Sportage is back with many upgrades and feature improvements. Not only does it have a longer body thanks to its lengthened wheelbase, but it also has more interior space, especially in the back seat area. The new Kia Sportage is also available as a plug-in hybrid and a hybrid. There are four trim levels to choose from in this SUV's 2023 model year and three package options. If this isn't impressive enough, take a look at the performance, safety, fuel economy, interior, and technology enhancements the Kia Sportage has to offer in its 2023 version, too.
Performance
To create a reliable driving experience, Kia has employed a standard 187-hp, four-cylinder engine as its mainstay. A 226-hp hybrid powertrain is also available as an upgrade, as is a power-driven plug-in hybrid that can travel up to 32 miles on a full electric charge. An eight-speed automatic transmission comes standard, and both the gas-powered Sportage and the hybrid can be equipped with all-wheel drive or rear-wheel drive. The plug-in hybrid only features all-wheel-drive pairing to amp up its performance.
Safety
The 2023 Kia Sportage also seeks to keep drivers and passengers safe during their journey around Sacramento to Davis, so this SUV incorporates Kia Drive Wise safety technology into all its models. A Blind-Spot View Monitor comes in handy in those hard-to-see places, while a 360-degree surround-view mirror provides extra assistance all around the Sportage's exterior. Highway Driving Assist also helps avoid collisions at high speeds by detecting nearby hazards. A new feature for the 2023 Sportage, known as Junction Turning, also helps avoid collisions when drivers are making left-turns on busy roads around Roseville, CA and Vacaville.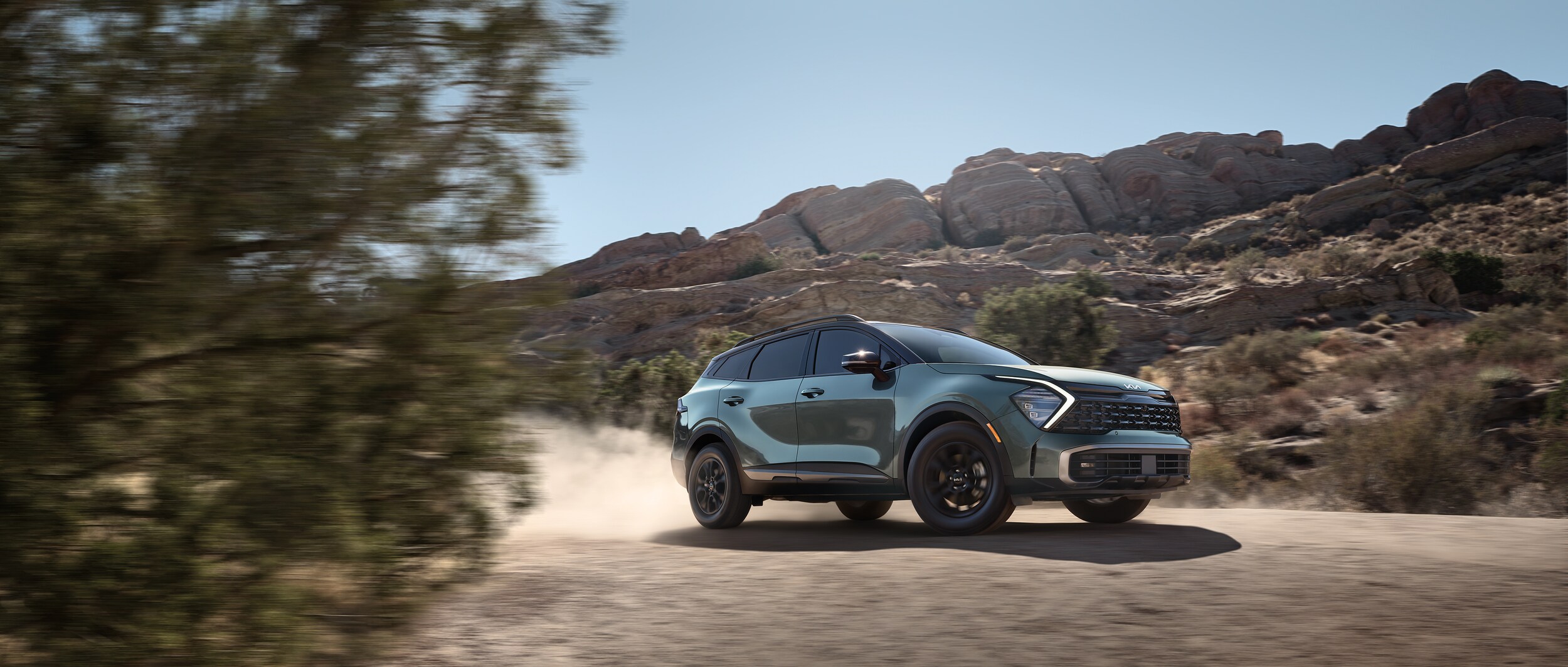 Fuel Economy
One of the best features of the 2023 Kia Sportage is its fuel economy throughout all powertrain systems. When equipped with its standard 2.5-liter four-cylinder engine, this SUV averages 25 city mpg and 32 highway mpg with a front-wheel drive setup. All-wheel drive decreases this slightly to 23 city mpg and 28 highway mpg, which is still quite impressive. The hybrid Sportage does even better with its average 42 city mpg and 44 highway mpg, making it a great option for explorers who frequently visit destinations around town. While the plug-in hybrid model hasn't had its fuel economy tested, we expect only great things from this model, as well.
Interior Design
Inspired by high-end designs, the inside of the 2023 Kia Sportage appears rich and elegant despite its status as a rugged SUV. The Sportage manages both personas perfectly with its seamless 12.3-inch digital display and options for a leather-free interior paired with its all-terrain tires and rugged-looking trim selections. Most Kia Sportage owners, though, appreciate their comfortable and practical interior when traveling around town. Additional legroom and cargo space make their way into the 2023 Sportage model for ultimate comfort. Also, USB ports for charging, hooks throughout for cargo storage, and coat hangers that fold out from front headrests are an ode to the convenience of this SUV.
Technology
Advanced technologies are integrated naturally into the 2023 Kia Sportage. These include an exterior LED lighting system, an upgraded climate system, and wireless phone charging. Entertainment in the Sportage is enhanced through the integration of a premium Harman Kardon stereo system, which can be controlled by touch-sensitive controls that also assist the climate control system.
See the 2023 Kia Sportage at Elk Grove Kia
The 2023 Kia Sportage is one of the most impressive SUVs around Elk Grove, CA, and we'd love to show you one in person. View our inventory online and then head into Elk Grove Kia to get behind the wheel of a Sportage model and take it for a spin.
How Can We Help?
* Indicates a required field