ALL NEW KIA NIRO - Most fuel efficient crossover in North America!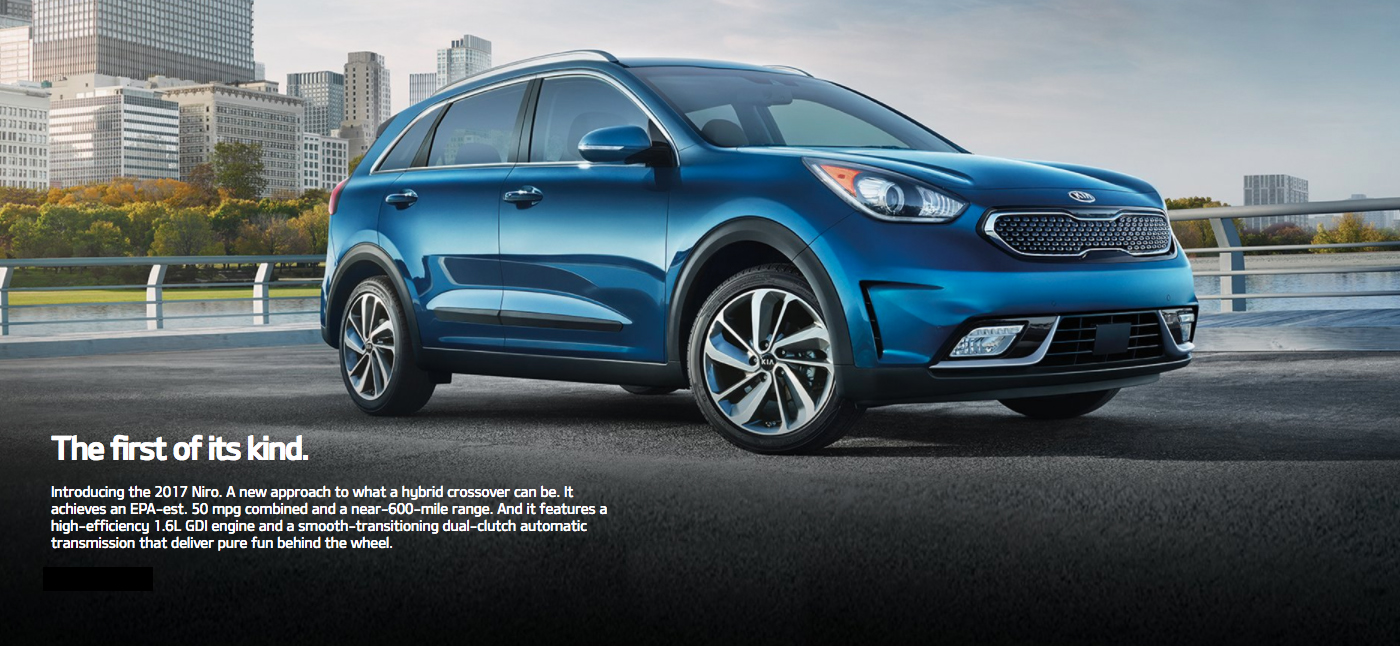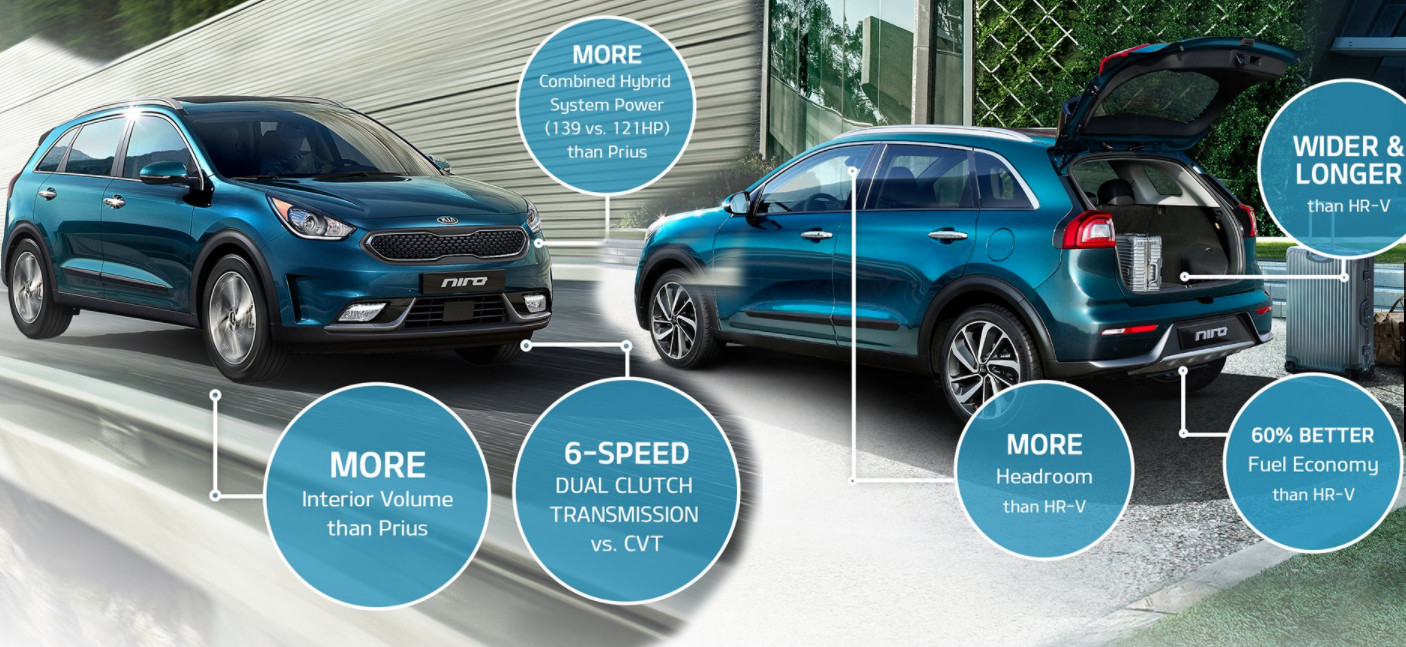 The best of both worlds.
The Niro is the no-compromise vehicle. Thoughtfully designed to combine the benefits of the crossover and hybrid worlds. Like the forward-looking engineering and optimized fuel economy of a hybrid. And the versatile design and practicality of a crossover. It's the high-style, high-MPG adventure vehicle made for the no-compromise driver.
HYBRID
Unlike hybrids with continuous variable transmissions (CVT), the Niro comes with a highly responsive, smooth-shifting dual-clutch transmission (DCT) that gives the Niro a fun-to-drive feel missing from the competition. Plus, it offers ample interior space you wouldn't expect from a hybrid.
CROSSOVER
Thanks to its hybrid-optimizing powertrain, the Niro achieves superior fuel economy and range for its segment. And its refined exterior styling, with sculpted lines and an aerodynamic shape, sets the Niro apart from the rest.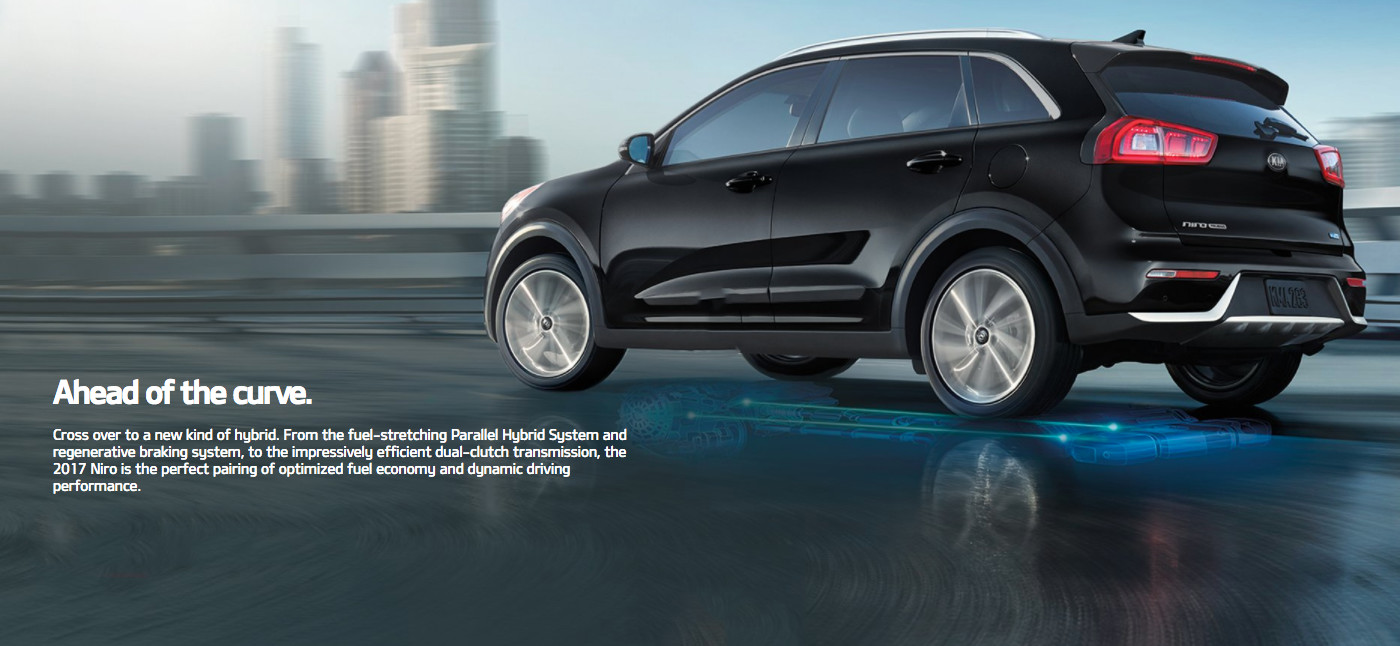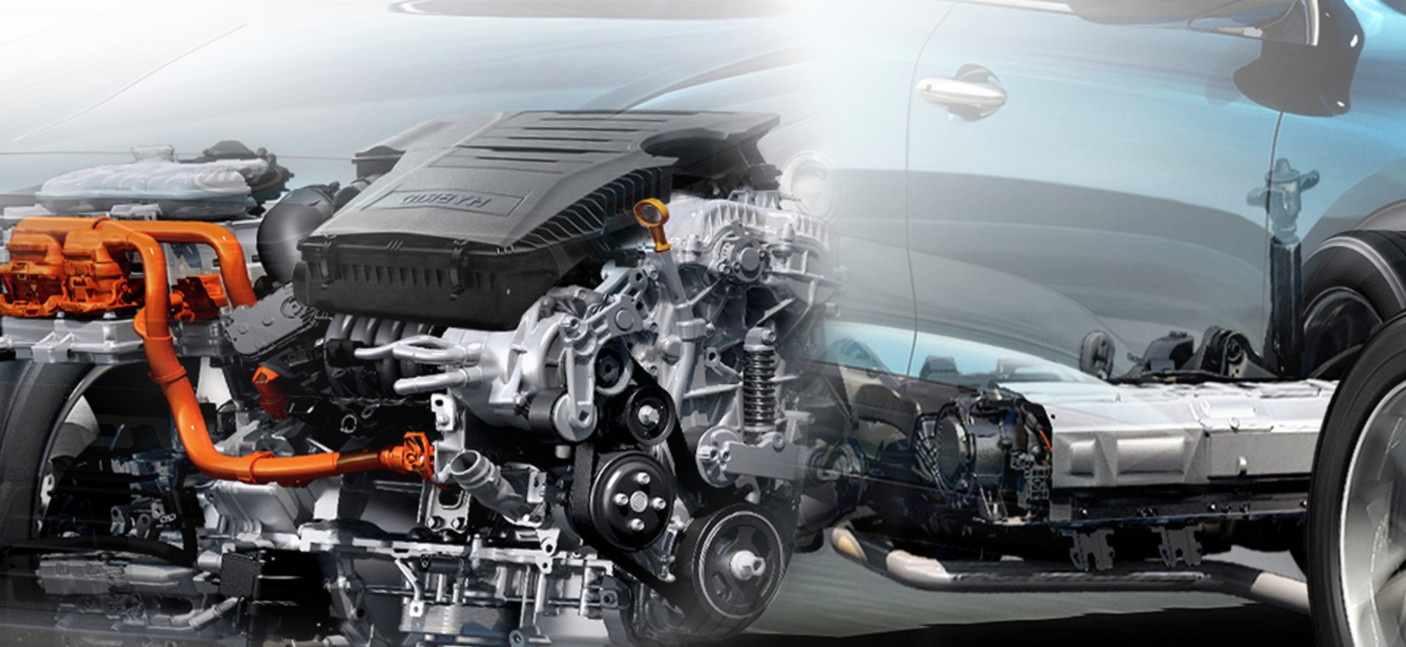 Unparalleled performance.
At the core of Niro's innovative powertrain is Kia's Full Parallel Hybrid System. It combines the pure power of our hybrid-optimized engine with a highly efficient, lightweight electric motor and a powerful lithium-ion polymer battery. The result is a smooth, reliable performance that delivers outstanding hybrid efficiency.
ELECTRIC DRIVE
Paired with the energy-dense 1.56kWh lithium-ion battery, the lightweight electric motor provides dynamic efficiency for a spirited drive.
GAS ENGINE
The Niro's new 1.6L, gasoline-direct injection (GDI) engine offers both high efficiency and a sporty feel.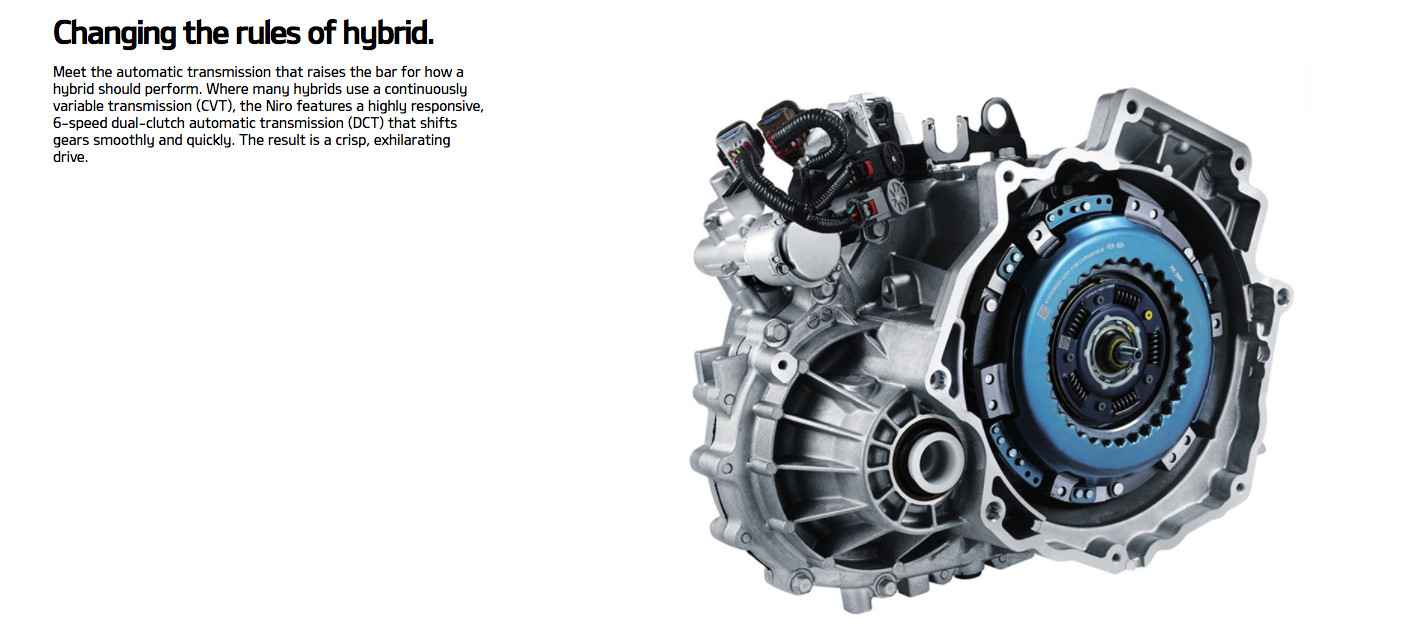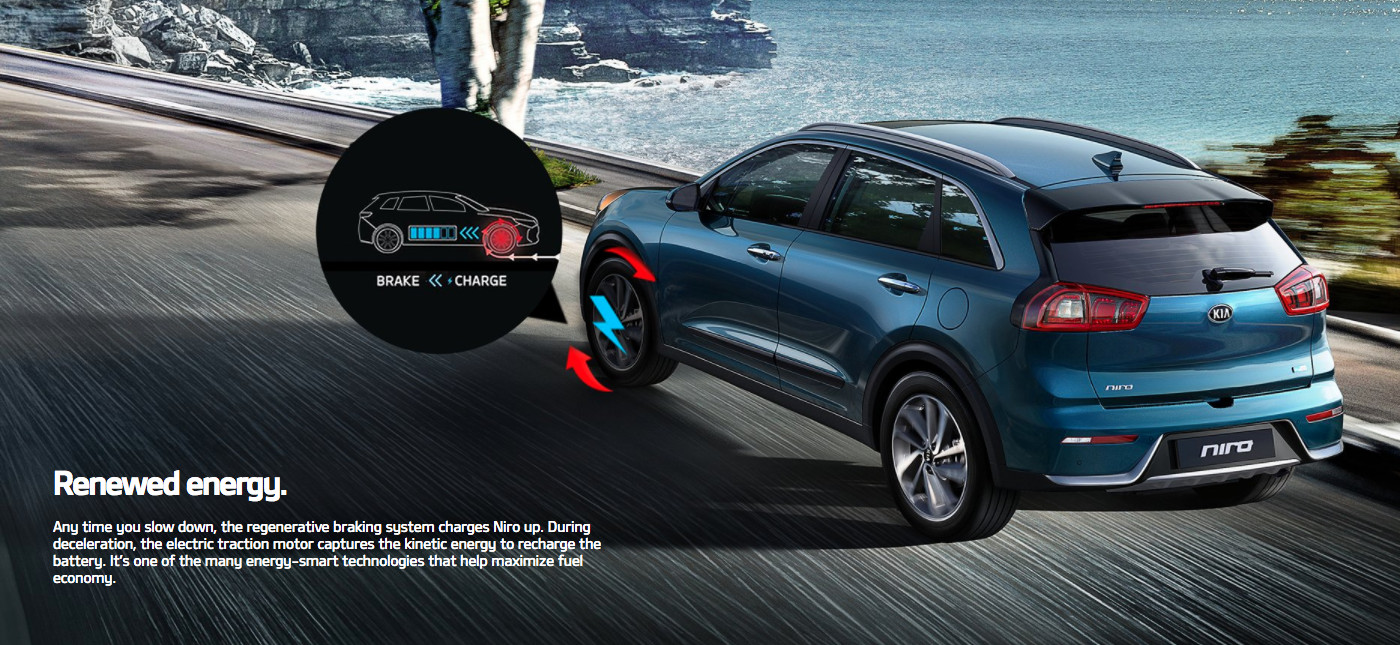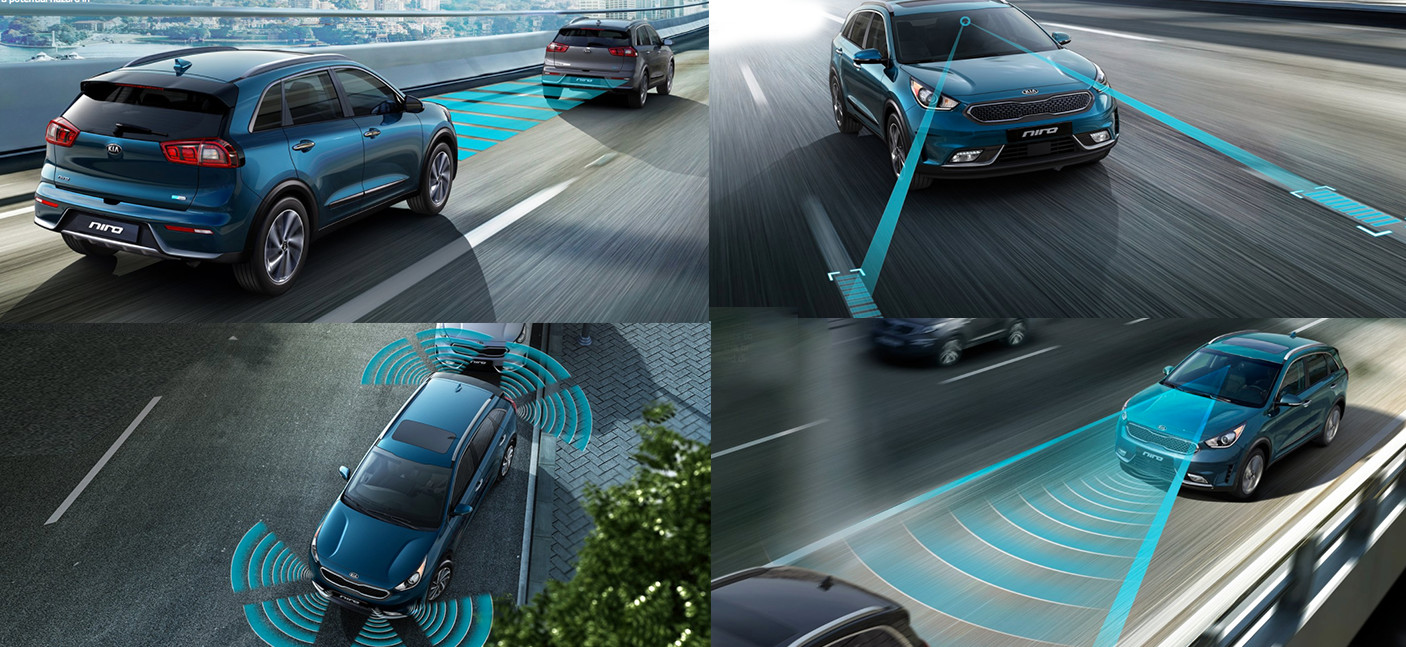 Smart Cruise Control
Meet the system that does more than set your pace. Smart Cruise Control (SCC) adapts to your driving environment by automatically applying the brakes, or accelerator, to help maintain a predetermined distance from the vehicle in front of you.
Forward Collision Warning System
It's advanced tech that anticipates and responds automatically. The available Forward Collision Warning System (FCWS) gives audible and visual alerts when it detects a potential hazard in your path.
Lane Departure Warning System
The Lane Departure Warning System (LDWS) helps you stay the course by monitoring the position of your Niro and alerting you if you drift from your lane without signaling.
Park Assist System
This advanced drive-assist technology helps you stay informed while you park. Using sonar sensors integrated in the Niro's bumpers, the available front and rear parking assist gives an audible warning when you near other vehicles or objects.